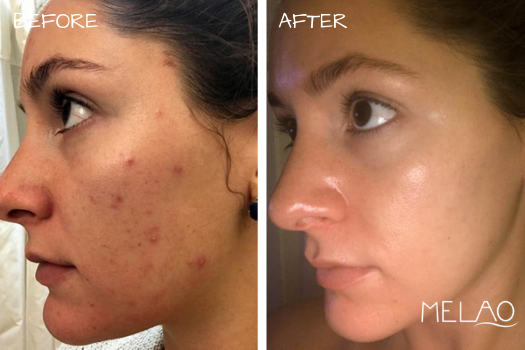 Gives You An Amazing Glow
Bring back your skin's natural glow with the Melao Vitamin C Serum. Vitamin C is the key ingredient of collagen, which we all know is the key to healthy, radiant and younger skin. This powerful serum will give you an amazing glow & clear up your skin in no time, we guarantee it.
Clears Your Skin From Spots & Acne
Spots and acne are two of the most inevitable skin problems. Everyone suffers from these once in a while. We've packed our serum with Vitamin C that gives your skin a boost away from acne and evens out skin complexion.
Gets Rid of Fine Lines & Wrinkles
Every woman's fear of aging involves these two problems – fine lines and wrinkles. Vitamin E's antioxidant properties from the Melao Serum helps you keep a youthful skin by blocking free radicals from the body.
Heals Your Skin From Damage
Heal skin with Aloe. This ingredient supplies the skin with hormones that help wounds heal. It works by stimulating the growth of new skin cells. Alongside the antibacterial properties of aloe, it also helps the skin stay clear of acne, redness, and infection.
Tightens and Smoothes Pores
Large, open pores? We hate it just as much as you do! Melao Vitamin C Serum's aloe doesn't only moisturize skin, it gets rid of your large pores too.
One simple step to a radiant, youthful skin – Massage a small amount onto cleansed and toned skin then allow the serum to absorb completely.
Do this once in the morning and once at night and see visible results!
POWERFUL INGREDIENTS FOR INSTANT RESULTS
GLOW & EVEN SKINTONE
Acerola Cherry has an incredibly potent Vitamin C concentration, which plays a vital role in your skin health. Vitamin C is the key ingredient of collagen.
Collagen metabolism is the key to healthy, radiant and younger skin.
HEAL
Aloe Vera works to heal skin from damage. It's soothing and moisturising properties make it very effective for combatting skin issues like acne, dry & patchy skin, inflammation, general redness and irritation.  
AGE DEFENCE
The oil for all skin types! Jojoba Oil has a ton of anti-aging properties. It deeply hydrates the skin, penetrates deep down to soothe and soften skin as it provides moisture. Unlike other oils, this one's much lighter and gets easily absorbed. With a load of Vitamin E, this oil helps fade fine lines and wrinkles.
HYDRATE & PROTECT
We've added hyaluronic acid into the mix, which has a unique ability to hold in moisture. Another collagen producer it's sure to make your skin nice dewy, & plump. Bonus: It also protects your skin from UVB rays that can cause sunspots.